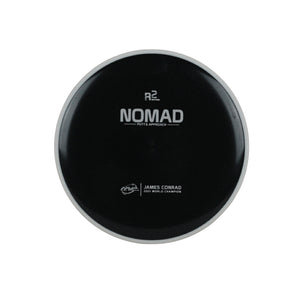 Designed by the World Champion himself — the Nomad has everything James Conrad desires in a putter. From the depth and shoulder height, all the way down to the size of the small bead — the Nomad is James' vision of an ideal putter.

Expect a neutral flight inside the Circle, with some fade kicking in at Circle 2 — making the Nomad great at holding anhyzer or hyzer angles when need be. Off the tee, the Nomad's straight-stable flight will let throwers of all power levels experience confident, straight lines with just enough glide to stick under the basket — not blow past it. 
Specifications
Rating: 2 | 4 | 0 | 1.5
Diameter: 21.2 cm
Rim width: 9 mm
Plastic: R2 Neutron

--
Note: The colour that you receive may not be the same as the one pictured.